"Ice Bear has a conspiracy theory."
This page may contain inaccurate information based on speculation and is subjected to change at any time.
Baby Orphan Ninja Bears is the 32nd episode of the fourth season of We Bare Bears and the 129th episode overall.
Synopsis
The Baby Bears venture into the sewers and meet a ninja-like martial arts master.
Plot
TBA
Features
Characters
Master Cheddar
Slice
The Boot Crew
Alligator
Trivia
This is the first episode the Baby Bears go into the sewer, however, Panda was in the sewer with Charlie in the episode Chicken and Waffles.
This is the first episode featuring Master Cheddar.
Max Mitchell still voices Baby Panda taking over for Duncan Joiner forever, however, Baby Grizzly is still voiced by Sam Lavagnino and if Baby Ice Bear's child voice is ever heard again or is ready to officially talk, then he's as well voiced by Max Mitchell just like Baby Panda since Duncan Joiner is gone.
This is the first episode featuring the 3 ninjas, Slice, The Boot Crew, and Alligator.
Special guest stars include Dante Basco, Jacob Hopkins, Greg Chun, and Andrew Fox
Master Cheddar almost dies when he was sinking and drowning in the river from fighting the crocodile just as the Baby Bears are about to cry, which seems similar to when Charlie almost dies in the toxic waste dump trying to save Panda in the previous episode Bubble.
When the Baby Bears become ninja bears and learn karate, they're technically one of Baby Ice Bear's skills he wanted to learn as he grew up, and he folds paper into ninja stars, this episode possibly reveals how the Baby Bears first learned how to do karate.
When the Baby Bears exit the sewer, they say the sewer is stinky for them which Baby Panda mentions when he says he was barely holding his breath but they never even seem to mind it during this episode and don't even mention it stinky throughout the episode.
This episode reveals and the Baby Bears mention that they're in New York.
Cultural References
The title and episode is a reference to the Teenage Mutant Ninja Turtles. There are several references to the 1987 cartoon, the 1990 live action film, and the Bear Rap is a reference to the sequel, Teenage Mutant Ninja Turtles II: The Secret of the Ooze.

In addition, Master Cheddar is a reference to Master Splinter, Slice is a reference to the Shredder, the Boot Crew is a reference to the Foot Clan, and the Alligator may be a reference to Leatherhead. The red, blue, orange and purple masks look similar to what the Teenage Mutant Ninja Turtles wear.
Errors
TBA
International Premieres
TBA
Videos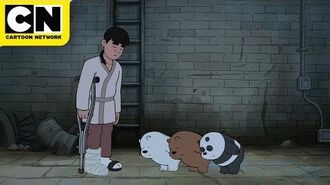 References
Community content is available under
CC-BY-SA
unless otherwise noted.