Hibernation is the 25th episode of the first season of We Bare Bears and the 25th episode overall.[2]
Synopsis
The Bears, being an urban bunch, hadn't ever heard of the idea of hibernation until Chloe tells them about it. Grizz, loving the idea of eating a ton and then just sleeping to his heart's content, goes for it with reckless abandon. But Grizz is so excited for hibernating… that he can't fall asleep.[3]
Plot
The episode starts with the Bears visiting a book store. Grizzly is seen looking at various foods available, Ice Bear reads through a book about hatchets, and Panda attempts to look through the Teen Romance section. However, in fear of being caught by other customers passing by, he flees into the Nature aisle, where he frantically grabs a book. Finding out that it's a book about pandas, he calls his brothers over and Ice Bear finds a book about polar bears, the two reciting facts from the books. Feeling left out, Grizzly quickly searches for a book about grizzly bears, where he finds a children's book describing grizzly bears going through hibernation. Despite Panda's disapproval and the fact that it's January, Grizzly is set on hibernating.
The Bears proceed to stock up on food and, throughout the day, Grizzly gorges himself on as much food as possible, to the point where he steals food from his brothers a number of times. After making a massive mess, he decides that he is full enough for hibernation. He then proceeds to horde soft objects from around the house, taking towels, pillows, and mattresses from around the house, including a body pillow belonging to Panda named Miki-chan, piling them up in the living room to practice for hibernation. His brothers, now annoyed, begin to protest and attempt to persuade Grizzly to stop, but out of frustration, Grizzly instead hauls as much as he can to a shack outside of the cave. After spreading out the pillows into a large pile, he sets an alarm for June, then attempts to sleep. However, he finds himself unable to sleep, constantly tossing and turning.
After a while, Grizzly gives up on trying to fall asleep, ready to head back to the cave until he hears a voice telling him not to leave. He turns, confused, and looks inside of the book, finding the grizzly bear, known as Little Bear, inside come to life. Little Bear then pulls Grizzly into the book and leads him through it, telling him how important hibernation is and insists on Grizzly following through with it. He allows Grizzly to eat several different foods and tells him nothing is stopping him from doing so. Grizzly gets excited, deciding to go through with hibernation. However, after learning that the book ends prematurely with the bear not waking up, Grizzly grows frantic at the fear that his brothers won't be there for him again after he wakes up. He runs back through the book in a panic as he tries to escape, while Little Bear begins to lecture him, telling him that his brothers would just laugh at him if he went back to them. However, Grizzly is persistent, and finally decided that he didn't actually want to be special as he'd been insisting before. With this revelation, the book closes around him.
Panda and Ice Bear soon wake up Grizzly, comforting him as he grows aggressive in trying to find the little grizzly bear. But the two then reveal to him that he'd been delirious and show him a video that they had recorded of him running around the shack with the body pillow on his head. After asking Grizzly if he is unable to speak, he grows withdrawn and is unable to properly tell them, so they decide to let him resume sleeping. Grizzly quickly shouts for them not to leave. Panda then offers to head out of the shack for fresh air, which Grizzly agrees to. The Bears sit outside with the body pillow and enjoy the night. Grizzly decides that just being with his brothers is special enough for him, hugging them tightly before Panda takes back his body pillow from Grizzly.
Features
Trivia
As confirmed by Daniel Chong[4] and Louie Zong[5], this episode marks the end of Season 1A.
The synopsis of this episode is comparable to "Goodnight Ice Bear"'s.
As stated by Panda, the episode takes place in January.
This is the last episode to air in 2015.
The synopsis says that Chloe is supposed to be in this episode but unfortunately that it appears she's absent and not in this episode at all, it seems that she was probably cut out due to the length of the episode or it's a mistake saying she was never supposed to be seen, that's probably why she didn't appear, although it does say that it's about her telling The Bears about hibernation, her name is in the synopsis. (See Errors)
Cultural References
Panda is seen eating Choco Sticks, which is a reference to Pocky─thin, frosted (usually chocolate flavored) biscuit sticks that are popular in Japanese culture.
Little Bear in the hibernation book Grizzly's reading can also be a reference to the Maurice Sendak TV Show Little Bear TV series.
Errors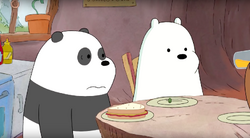 During one scene while Grizzly is following the Good Night Grizzly book for hibernation instructions, the Bears all have a plate of sandwiches. Panda's sandwich has peanut butter on it, despite the show previously establishing his peanut allergy.
In the page in Good Night Grizzly that explains a grizzly obtains soft things for their den, Little Bear's scarf is blue─like in the concept art for the episode─rather than red.
An official synopsis of the episode stated Chloe is in the episode, however, this was found to be an error as Chloe is never shown in the episode. However, early storyboard sketches posted on the official Tumblr reveal that Chloe was originally intended to be in this episode. It was later confirmed on the official Tumblr that Chloe was cut out, due to the length of the episode.
International Premieres
May 9, 2016 (Latin America, Brazil)
May 3, 2016 (UK and Ireland)
Videos
References
Community content is available under
CC-BY-SA
unless otherwise noted.