Kazumi Watanabe (渡辺かずみ Watanabe Kazumi) is a minor character in We Bare Bears, who first appeared in Ramen.
Appearance
Kazumi has an average build. She has short black hair and black eyes. She is seen wearing a blue kerchief, blue apron, a grayish-black farmer's suit, and grayish-black shoes.
When younger, Kazumi still has her blue kerchief. She also wears a bluish-white T-shirt with sky blue collar.
Abilities
Cooking
TBA
Relationships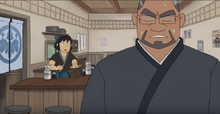 Keiji Watanabe is Kazumi's father. When she was young, she adored him and wanted to be a ramen chef like him. However, when she grew up, it is shown that Keiji and Kazumi didn't have a very good relationship, as she is not good at cooking ramen. He threatened her that he would rather close the restaurant instead of letting his daughter ruining it. After Kazumi made her own ramen dish for summer, he finished her dish and left. It is shown that he let the restaurant to continue on business, assuming that their relationship has gone better.
The Baby Bears have a good relationship with Kazumi. When first seeing them, she thought they were raccoons, but after realizing that they are bears, she told them that they were adorable. Panda then told her that they were thirsty, so Kazumi gave them iced tea. When tasting her ramen dishes and realized how terrible the dishes were, they tried not to tell it out. After hearing Keiji's threatens to close the restaurant, they decided to help her making the ramen by helping her find the ingredients needed. When Ice Bear fell down when trying to help her to get an ingredient from the self, Kazumi ran and caught him, but accidentally spilled the soup out of the cooking pot. Grizzly and Panda ran to her and tried to scoop the soup. Kazumi then had another plan and told them to distract Keiji, which they followed. After Keiji satisfied with her ramen dish, she hugged the bears and thanked them. Panda then helped her designing a board for her restaurant, which she thanked for.
Trivia
Her name, Kazumi (かずみ) has a lot of meanings, and her surname, Watanabe (渡辺) means ferryside
Community content is available under
CC-BY-SA
unless otherwise noted.