Lunch with Tabes[2] is the 15th episode of the third season of We Bare Bears and the 67th episode overall.
Synopsis
The Bears have lunch with Ranger Tabes, but when a mystery presents itself, Tabes goes into full on detective mode to find the culprit.
Plot
The Bears are at the Ranger Station, trying to distract themselves from the heat. Tabes makes a sandwich for lunch, but has to leave for a moment when her dog Kirk wants to go for a walk. She leaves Martinez, who is asleep, in charge. The bears wait until Tabes comes back a long time after. Right when the bears and Tabes are about to eat lunch she discovers that her sandwich is missing from the fridge, with an empty plate and crumbs in its place. Tabes starts overreacting and turns down Ice Bear's offer to make her a new sandwich. Tabes then starts questioning the bears. Grizzly claims that he was trying to defend himself from a horde of angry insects. Panda claims that he was using Martinez's hat to takes selfies for his profile. Ice claims that he went to the bathroom to wash his hands, only to have to escape from it after the doorknob came off. After a round of questioning Tabes rules out Martinez, who was sleeping the whole time. She then looks at the selfies Panda took while she was outside and sees that Kirk was the one who stole the sandwich.
Features
Trivia
This is the second appearance of Kirk, Tabes' dog, and is the first time his name was mentioned.
The musical stings when Tabes is making her sandwich and when she discovers it missing resemble those used by director Quentin Tarantino in his films.
Errors
Ranger Tabes splits a head of iceberg lettuce but when the sandwich is shown she throws on tomatoes, avocado and then puts the bread on top, thus completing the sandwich. No lettuce is thrown down inside the sandwich. When she shows the completed sandwich only the tomato and avocado slices peek out from between the Bread slices.
When Tabes discovers her sandwich has been taken, the toothpick is lying on the plate, but when Kirk is seen stealing the sandwich the toothpick is stuck in the sandwich.

Also, later Kirk coughs up the toothpick.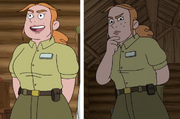 The front left belt loop on Ranger Tabes pants is often missing and/or changes location throughout the episode.
International Premieres
August 14, 2017 (Latin America and Brazil)
January 9, 2018 (United Kingdom and Ireland)
References
Community content is available under
CC-BY-SA
unless otherwise noted.