This article is about the episode. You may be looking for the company.
Mom App is the 12th episode of the fourth season of We Bare Bears and the 109th episode overall.
Synopsis
Hoping to finally get the mom-experience, The Bears use an app that'll bring a mom right to their door.
Plot
Grizz, Panda, and Ice see an ad for a new app called the Mom App and download it. Longing mother figures (as previous Baby Bears episodes imply a lack of parents), they each order a mom (Grizz orders Gayle, Panda orders Linda, and Ice Bear orders Tank), who seem like a great fit for each of them at first, but are each extreme in their own ways and not a good fit in the long term for all three bears. To finally get rid of Tank, the bears have to call their mom's mom (Tank's Mother), who explains that while they may not have grown up with mothers, they should be proud that they turned out strong and confident, and they have each other.
Features
Characters
Trivia
This is the first episode The Bears finally get a mom in their family.
It is revealed by the first mom that Ice Bear also privately plays violin, showing a more sensitive, side of him.
Ice Bear reveals that he is wanted in Singapore.
Ice Bear's mom choice, "Tank", is voiced by Jane Lynch, who is best known for her role as Sue Sylvester from the TV series Glee.

The music that plays for her is similar to "Back in Black" by AC/DC.

The Mom App is a parody of the popular app Tinder [1].
Errors
TBA
International Premieres
April 9, 2019 (United Kingdom and Ireland)
Videos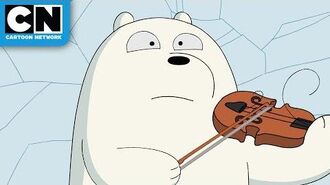 References
Community content is available under
CC-BY-SA
unless otherwise noted.