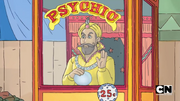 Psychic is a service which allows you to have yours or another being's thoughts read. Its owner and only employee is the Mind-Reader. It made its first and only appearance in the episode "Emergency".
Appearance
Exterior
The building itself is small, its walls painted a dull grey color. The entryway has no door, but a beaded curtain. The only window has custom decals on it, one of them being a large eye and an advertisement, reading "Professional Mind Reader 24 HR". In front of the window is a sign reading "No good? Full Refund".
The name of the building is seen right above the door and window, the sign mainly being red. It reads the word PSYCHIC with a yellow hand with white swirls around it to its right.
Interior
The inside is relatively dark, though the walls are a dark violet. In the very back of the room are curtains leading to different, unseen rooms. In the very center of the building is a table, covered in red curtain of the same color as the walls. On the table is a fogged-up snow globe that takes on the appearance of a crystal ball. A lamp above the table shines a relatively direct light onto the table to help fit the theme of the building.
Emergency
After the Bears had lost Ice Bear on their way to the hospital, their crab had jumped off the chair Ice Bear was wrapped to and scuttled into Psychic. The Bears saw and, after reading the advertisement on the building's window, followed the crab. Upon entering, they were greeted by the Mind-Reader. Grizzly explained to her their situation and asked them to read their crab's mind. She accepted their request and, after placing the crab on her "crystal ball", she blew what Panda claims smelled like ramen powder onto it. She proceeded to join hands with the two Bears and chant, requesting to read the crab's mind.
She then explained her readings, describing "a man with white hair who doesn't speak much". The Bears' hopes lift as the description is loyal to Ice Bear, but become disappointed when her reading is completely off. They leave the building in anger, taking their crab with them.
Community content is available under
CC-BY-SA
unless otherwise noted.