Richard "Rick" Park is the husband of Winifred Park and the father of Chloe Park. He was first shown in "My Clique" alongside his wife and later made a more prominent appearance "Slumber Party" when he visited the Bears' cave to check up on Chloe.
He also made an appearance in the episodes "Chloe and Ice Bear", "Slumber Party", "Captain Craboo", "Bear Flu", "Christmas Parties", "Road Trip" and "The Perfect Tree".
Appearance
Mr. Park appears rather tall and is quite slender. He has black hair and a receding hairline. He also wears a pair of flat-top glasses with thin, black frames. He's initially seen wearing a cape palliser long-sleeve with a white collar, dark brown pants, and black dress shoes. In "Slumber Party", when he pays the Bears and Chloe a visit, he's seen wearing a black rain-coat over his usual attire.
Personality
Mr. Park is a generally friendly man. He seems to be quite serious and rather strict as seen in a video chat in "Slumber Party" when Chloe asks if she can stay with the Bears overnight due to a storm. He does have some lax, however. This can especially be seen near the end when him and his daughter are having a pillow fight.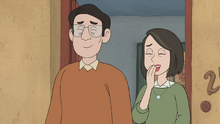 He shows great concern for Chloe and a great amount of love for his family which can be seen in "My Clique". When the Bears escort Chloe home, the three meet Winifred and her husband. They explain how they're worried about Chloe but the Bears reassure them that they'll do their best to help. Mr. Park seems to trust the Bears, but only to a degree, as he's very protective of his daughter.
References
Community content is available under
CC-BY-SA
unless otherwise noted.