Mrs. Winifred "Winnie" Park is the wife of Richard Park and the mother of Chloe Park. She made her first appearance in the episode "My Clique".
She also made appearances in "Chloe and Ice Bear", "Slumber Party", "Captain Craboo", "Bear Flu", "Christmas Parties", "Road Trip", and "The Perfect Tree".
Appearance
She has short, dark brown hair with a tinge of gray and wears a green sweater with a collared white undershirt and black capri's with the cuffs rolled up. She also wears black flats and black shoes and a pendant necklace.
My Clique
When the Bears escort Chloe to her home and ring the doorbell once they arrive, Winifred is the one to answer the door and greet them. Winifred speaking in her native language, Korean, presumably asks Chloe how her time went. Chloe, in response, shows clear agitation. Winifred speaks to her, once more in Korean, asking her what's wrong. Chloe tells her its nothing and heads inside to study.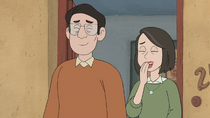 Richard appears, both him and Winifred now looking at Chloe with worry. Richard asks his wife what's wrong with Chloe, but she only shrugs in response, not knowing herself. Panda then speaks up and tells her they were trying to help Chloe make new friends at her school, but it didn't end well. The Bears say they'll help Chloe make even better friends, and also introduce themselves to the Parks. They voice their worry for their daughter being in college, the Bears reassuring them she'd be fine. The Parks thank the Bears and they take their leave.
Trivia
Community content is available under
CC-BY-SA
unless otherwise noted.